August 1, 2012 New York Giants Training Camp Report
by BigBlueInteractive.com Contributor JohnF
Hammer of Thor" Edition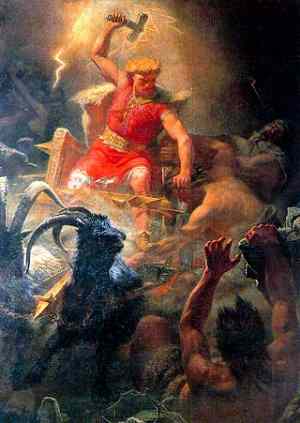 "I'm Thor." – "Well, you thould put thome ointment on it, then."
From the "Old Stale Jokes Anthology"
Thor: Do not touch me again.
Tony Stark: Then don't take my stuff.
Thor: You have no idea what you're dealing with.
Tony Stark: Uh…Shakespeare in the park.
Tony Stark: Doth mother know, you weareth her drapes?
2012 Avengers Movie
Ah, yes, it's a shocking version of Bits & Bites to start August off with. The Sun is warm, with a bit of a breeze, lower 80's, and we're at Camp Scooby Doo again. However, the forcast is for storms in the afternoon, and knowing how fronts move around the UA campus, we come prepared with our trusty $2.99 umbrella, with a nice metal tip!
(For those of you expecting to see the Marvel Thor…get over it, this is the real thing. I think…)
I know there will be trouble ahead, as I have a nice shady spot on the sideline between fields 2 and 3. Ok, let's start off…1:00pm, and the team is split, the defense is on Field 3, the Offense on Field 2. Both are doing play walk-throughs.
I notice that Hixon is wearing white compression socks that go over his knees…he also seems to have a soft knee brace over both knees, but under the compression socks. This may be for some stability support for his ACL, or perhaps just something to protect him from knee scrapes.
Bruce Johnson and Rocky Bernard also are wearing the high compression socks, but not the knee brace underneath…more like white shin wraps.
Horn sounds, and the team moves around again. On Field 3, we have the QB's doing footwork (coming back from center), with Bass, Boothe and Goodin as the centers. Cordle was with them, practicing his long snaps.
On Field 2, more punt returns with Hixon, Cruz, Jernigan, Randle and Hosley. On the sideline, we have JPP, Rogers, Antrel, Corey, Kenny and Rocky chillin and having some laughs. I try my lip reading skills, though I'm not confident…
Antrel: What's this I hear about Marvin's dreads?
Rocky: That's yesterday's news. I want to see more of that "ball on a stick", that looked good to me!
Back to Field 2, and we see the PR/KO machine out sending balls to the usual guys.
Horn.
Sprints, kicks, arm waving, running backwards…it's the Mitch Petrus Olympics!
Speaking of stretching, Matthew McCants really needs to take some Yoga, or Yogurt, or something, to increase his flexibility. Perhaps some Zombie Zumba…
Over on Field 3, Tynes is flexing his arm with some pitch and catch with the support staff.
Horn.
On Field 3, the QB's are doing pitch and catch with Bradshaw, Bear and Cruz. Back on Field 2, there's a drill where the punt returner releases, and there are two gunners chasing him…one long, one short, trying to down the punt.
On the right sideline, the WR's/TE's are working with the LB's/DL. Two release at a time to block, then two defensive guys fight the block and go around them. Chase Blackburn gets a little frisky with one of the offensive guys, and tosses him on the ground (probably fighting a hold).
Horn.
On Field 5, the DB's have a drill where they line up next to a big pylon square mattress. One guy faces the mattress, while another DB has an arm shield, and pushes the first guy with it down on to the foam bed…probably simulating a trap block. The first guy is trying to defeat the block, of course.
The D Line guys have a drill where they are facing another D player with a cap, have to get around him, then tackle the "running back" (another D player) behind him. The linebackers are working on back pedaling drills.
On Field 2, you have 3 QB's throwing to 3 of 5 receivers going out at a time (one short throw, one intermediate throw, one long throw). Then more handoffs to running backs, and the WR's have to catch quick, hard passes from the coaches from point blank range (between 5-10 yds). The DB's come back to Field 2, and do some one-on-one press coverage stuff.
Over on Field 5, the D Line is now running across pylons and tackling the pop up dummy. The Safeties are working on beating blocking (from other defensive backfield players wearing caps and using plastic foam arm shields to block).
The CB's are now on Field 3, doing the "Chase the Ball" drill. That's where the player goes into his backpedal, then goes left or right depending on where the coach moves the ball with his hand.
Hey, a Nicks sighting on Field 2! He's still moving carefully on that foot, though…no spring. If his body language is any indication, he's a long way from coming back.
Now, there are 2 QB's on Field 2 throwing outs to 2 WR's, one on each side. The D Line is off doing gap drills. The safeties are back pedaling, then breaking to the ball for interceptions. The TE's and D Line are on Field 4, doing blocking drills with foam arm shields.
I've notice a thing with #13 (Barden)…he really should focus on not leaping as often when the ball comes to him. It really robs him of any momentum (he comes to a stop with a leap), and I think he'd get bigger plays by running through the route. He's big enough not to have to leap for most of the balls thrown to him.
Off on Field 3, the D Line and LB's are working on positioning for different coverages.
I check the weather…the temp is 84, and I see some nasty clouds coming quickly from the west.
Horn sounds, and the Defense (Field 3) and Offense (Field 2) are working through plays again.
All of a sudden, I hear a coach yell out:
Storm warning…15 minutes!
This is at 2:19 pm…
Horn.
Things now pick up. Time for O vs D. Eli's up:
Pass to Hixon, who falls down on the left sideline but completes the catch. That's followed by a middle handoff to Bradshaw, then another handoff to Ware
Kaboom!
(Bah, Thor must be either a Jets or Pats fan. Or it's the Hammer of Tebow!)
Play of the day comes up…Kiwi slices into the backfield and picks off a Manning pass intended for Bradshaw on the right flat for a defensive TD! Eli comes back, though, with a toss to Cruz who makes a crowd pleasing play with a leap and catch on the left sideline.
Carr comes in, and throws it to Collins, who makes a nice catch. A handoff to Scott, who goes off tackle right. Now it's a handoff to Brown up the middle. A throw to the right flat to Scott bounces off his hands, but he snaps it out of the air for a nice recovery catch. Another handoff to Brown up the middle.
Now it's time for the Perils of Perriloux. Stanback makes a nice catch on the right sideline beating Hosley. Wilson with another nice run off tackle left. This guy is going to be one of those runners who make you hold your breath. Hhe really has a second gear and makes lightning fast cuts in the hole.
Now Perrilloux hits Douglas on a slant despite nice tight coverage by Jojo Nicolas.
Drops of Rain??? (It's now 2:27pm). More rumbles in the background.
Ryan overthrows Stanback on a long pass up the right sideline, then can't find a receiver on the next play (sack)…
And that's it! Practice is over, and there's no hanging around or autographs, they are jogging quickly off the field.
What you didn't see after practice:
Me!…and other people hanging around…we were all off to cover, or our cars. Some people thought they might continue practice if the storm passed (and it did somewhat later), but I didn't stick around.
It actually didn't get that wet, but safety first. I guess a sacrifice to Thor will help for later, or maybe it was a warning if you missed the original Marvel Thor or Avengers flick.