August 6, 2012 New York Giants Training Camp Report
by BigBlueInteractive.com Contributor JohnF
Bits & Bytes "The Verizon Experience" Camp Report
Just a great day for camp. Mid 70's, a light breeze, lots of Sun poking through the puffy clouds…wow! Time to fire up the Honda, get my coffee (French Vanilla, extra skim) and go!
This time I have a UA VIP pass! (probably not as good as a Giants VIP pass, but I'll go over that later). So, I get to park at the Dutch Quad VIP parking lot. I go for the spot with shade, and that's opposite the regular parking spot I got yesterday. I got a whole 10 feet closer!
I'm told to wander to the Giants VIP tent. On the way, I see that a couple of SUNY students…excuse me, University at Albany students…are selling water from a cooler they set up. I'd give them points for effort, but apparently they haven't graduated from UA's Business program yet, as they are only selling water for $1 a bottle, not the current rip off price of $2.50-$4.00 you see elsewhere.
Wow, there's a VERIZON EXPERIENCE tent! Now, this is what Verizon wants you to think when you go to the tent: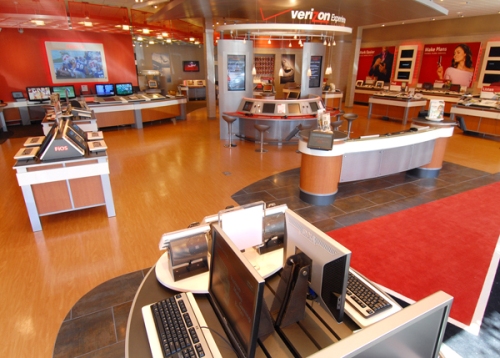 I know better. This is the real Verizon Experience: (Picture no longer available).
Sorry to vent, but I'm upset at these "Dolan Wannabes" with their "Grandfathered Unlimited" Data plans that don't last and their inability to generate a correct bill.
Onto the VIP tent. Now, there are TWO classes of ViP's. Ones that are blessed by the Giants, and go right through the tent. The other are UA peons, who have to wait in a long line for over 25 minutes because someone thinks they are on the list, but their names don't show up so they have to call their sponsor. Naturally, everyone else has to wait even though the two people doing the Giants side are filing their nails and checking Facebook.
I get to the field AT LAST…and fortuna smiles at last for me! I get to one of the metal stands, and the main practice field is on Field 3, right next to it! So let's start at last!
Weatherford, Tynes and DeOssie are on Field 2, doing their usual workouts. The Offense goes over to Field 4, while the Defense camps out on Field 3. Both the Offense and Defense are running plays…I know, it's boring, but repetition on the field is how you learn these things…studying the playbook only goes so far, you need to see actual players in motion to burn the play or technique in so you react, not think.
The weather, as I said, is much cooler, with clouds and gusts of wind that remind me of the old Meadowlands Stadium, only not quite as swirly.
Horn.
Punt return starts it off, first with Weatherford kicking, then the Punt/KO machine takes over. Taking the kicks are Hixon, Jernigan, Hosley and Cruz…Cruz muffs his first PR, but is solid as the rest after that.
Field 2: The O Line is standing around, with the coaches talking to them.
While I look around, I see Bradshaw sitting on some foam bench talking for a long while with one of the coaches (equipment problem?), away from the other players. He did resume practice.
Horn.
Sprints, stretches, etc.
I notice Bennett near my part of the field not taking part; the coach is testing his arms, to see if he can push off. He then goes over to the other sideline, where he takes his shoulder pads off and the trainers work on his triceps and neck area. That seems to do the trick, as he resumes practice. It might have been something as simple as a shoulder pad adjustment…if those things don't fit right, they can press on a nerve. He looks fine the rest of practice.
Coach Coughlin yells out "Gotta have the speed to play…get better" as the players do their stretches.
Horn.
Punt returns again on Field 2 with Jernigan, Randle, Hixon and Hosley.
Field 5: Sintim, Muasau, Canty, Nicks and Prince are doing light legwork, but they're not wearing shoulder pads, so they aren't practicing.
Field 4: The D Line, O Line, LB's, OB's and RB's are doing light pitch and catch.
Field 3: The DB's and some WR's are doing gunner work; you have one guy trying to beat two defenders.
Horn.
On Field 3, one of the coaches brings out two white hollow circles about 4 yds in diameter (I could count the yards when they placed them on the ground). Behind the circles were 2 QB pop-up dummies holding a football. On the side was a coach holding a ball to the ground, simulating a center.
Lined up behind both circles were the DE's, LB's, and CB's. When the coach lifted the ball, one player was supposed to go around their circle, knock the ball from the QB, and then recover it. The players were having fun with it…JPP tried to jump the snap, slipped, and then yelled "Field, Field!" Rolle went into an exaggerated Bugs Bunny hip circle as he got into his stance.
Field 4: Didn't see it that well, the Offense was still running plays.
On the other side of Field 4, the DT's were working on gap drills.
Field 3: Safeties were working on backpedal and interception drills. You could hear the coach going "Pedal, Pedal, Pedal, BREAK!!" when they did that.
Field 4: Now all the D Line is doing fumble recovery drills.
Field 4: The QB's are working with TE's/WR's/RB's on catches.
Field 5: O Line is doing stance drills (where they start low, then come up and shadow block imaginary defensive players).
On Field 3, there are now two groups of DB's. The safeties run 5 yards right, catch the ball, then circle back and catch the ball deep on the left sideline.
The CB's are working on coverage. One DB catches the ball in the short flat, the other breaks back then comes forward to close on the first one.
Field 4: LB's are working against other LB's playing offensive linemen using foam arm shields.
Field 4: Hey, it's "Ball on a Stick" drills for the D Line!
Field 5: O Line pulling drills. I notice Sintim sitting by the bicycles…He simply does not look anywhere near ready to play this year. He's trying to stay involved, but it's hard when you have to go slow.
Field 4: CB's are working on defending short curls with proper positioning. The safeties are working on inside position when the WR does a middle drag route, then trying to get inside position on sideline routes.
Field 4: Now all the defensive players are on Field 4. They are doing coverage/pass rush drills as a unit.
Horn.
Field 4: The Offense (QB's, RB's TE's, O Line) vs Defense (D Line, LB's, Safeties). This will be all runs:
Eli: Ware up the middle.
Carr: Pitch toss left to Brown. Then Brown up middle (stuffed by Hendricks). Scott off tackle right.
Perrilloux: Martinek up the middle (this guy has more speed than I thought). Wilson off tackle right. Wilson tries the middle but Mr. Tracy says otherwise!
Horn.
Field 3: Offense vs Defense, 11 on 11
Eli: Bradshaw up the middle. Cruz stumbles on the left sideline, misses pass.
Horn.
The offense is on field 4, the defense on field 3. Both are running plays, but at a very quick pace, almost a 2 minute pace.
Horn.
Field 3: Offense vs Defense
Eli: Hands off to Bradshaw up the middle. Cruz with a catch up the right sideline vs a zone. Eli overthrows Cruz on a middle slant.
Carr: Hands off to Brown off tackle right. Barden with a nice route and impressive reception. Carr's now in the shotgun, but hands off to Brown for a middle run. Carr then misses (or throws away the ball because of coverage) Barden.
Perrilloux: Wilson off tackle right, then off tackle left, then up the middle.
Horn.
Field 3: KO Return with Randle, Hixon, Jernigan and Hosley. Coach Coughlin isn't happy about something, and yells out "What the hell are you doing???"
I notice that Canty and Beckum are walking back to the locker room.
Jernigan gets applause from the crowd with a crisp mixture of moves to score untouched.
Field 2: The QB's are working on long (30 plus yards and longer) passes to Cruz.
Horn.
Now it's Defense vs Offense, 11 on 11 Field 3
Eli: Hixon with a catch of a long curl on the left sideline vs Coe. Wilson runs off tackle left, but that has to hurt as Rogers had a good grip on his facemask! I think Shaun's taking this seriously!
Eli to Cruz on a middle curl. Ware up the middle but Mr. Kiwanuka says "Nope!" Then a pass to the right flat to Hixon.
Carr: Catch by Collins on a left out. Scott off tackle right. Collins catches a long one but it's out of bounds thanks to a good play by Coe!
Perrilloux: Tries to hit Douglas on the right sideline, but the ball is tipped at the line of scrimmage. Martinek with a catch on the left flat…he shows perfect form, and catches the ball naturally. Wilson up the middle, then Martinek off tackle left.
Eli: Tries to hit Hixon off the middle, but Domenik gets tangled up with a DB, and can't get to the spot. Eli in shotgun with another pass right on the hands of Hynoski, who also is catching the ball well this camp. Then Eli does a play action pass to Bradshaw in the left flat.
Eli: Does a sprint right then pass to Cruz on the right flat. Bradshaw off tackle right. Ware up the middle.
Carr: Passes to Scott on the right sideline, for no gain. Scott up the middle…nope, Herzlich's there.
There's a player down on the field…it's #74, Dwayne Hendricks, DT. All the players kneel down as the trainers check his knees out. After 4-5 minutes, he's supported by a couple of coaches and limps over the sideline. I lost track of him after that.
Carr: Hard count, then Stanback makes a superior grab over Tryon; it was really nice, as Stanback makes this catch with Tryon already having wrapped his arms around #18!
Carr: Throws the ball to the right sideline for a catch, but I couldn't see the WR. Then play action to Scott, but the pass is too far to the outside to catch.
Perrilloux: Wilson off tackle right. Wilson shows he's got push moving Greg Jones back a few feet when they collide off tackle right! Now a screen to Bennett, and #85 flies up the left sideline!
Perrilloux: Play Action to Tally on the left sideline (crossing pattern). Douglas with a nice leaping catch over Bing. Martinek up the middle, then Wilson off tackle right.
Whistle.
Field 3: Offense vs Defense, 11 on 11
Green Zone time!
Carr: Stanback with a catch on the right sideline. Brown off tackle right. Brown with a catch on the right sideline. Hey, I see Blackburn on the field!
Perrilloux: Wilson off tackle left. Douglas AGAIN with a spectacular
skying over Janzen Jackson in the right endzone to score a TD!
Eli: Pass to Hixon up the middle for a TD. Ware off tackle right. Shotgun, goes back, but no one open (sack). Bradshaw handoff up the midle. Then Eli with the "I got this" look throws to Cruz
Cruz with a leaping grab over Coe for a 40 yd plus reception on the left sideline!
Carr: Passes to Brown up the middle flat, and practice ends.
What you didn't see after practice
The players do the rubber band stretch, then group together in a big circle. Corey Webster's son is carrying his helmet to the circle. After a couple of minutes, everyone yells "TEAM" and breaks into smaller circles, (D Line, O Line, etc).
Field 5: Snee, Boothe and Diehl are hitting not the sled, but a series of individual foam players staked into the ground.
Field 4: The DB's are hitting the sled! (Not the multiple player sled, but an individual sled).
The QB's and D Linemen are doing sideline to sideline sprints on Field 2.
The 40 second clock is on the field!
Notes
My impressions of the VIP seats.
They are nice, but come early…the good spots fill up fast. Why parents bring kids and don't make them sit in the stands infuriates me. There was a family with several kids who were in between stands, and they were poking out…the staff asked them several times to move back, as the kids were in danger.
Now, I have had a football player hit me close to full speed (in Arena Football, if you have seats by the dasher boards, you can have a player or players dive or be hit over and hit you). Trust me, it hurt.
Even an AFL player, who is lighter, hurts like hell (they re wearing full pads and a helmet, by the way), and can cause serious damage. An NFL player can break you in two, and I hate to see one hit a kid.
Also, I see people walking up and down the sidelines and NOT looking at the action on the field. That's beyond stupid. Stay safe, people!