Approach to the Game – Chicago Bears at New York Giants, November 12, 2006: The Chicago Bears are a good football team, but they are not any more dangerous than teams the Giants have played and defeated already this year such as the Eagles, Cowboys, and Falcons. So while there should be a healthy respect for a quality opponent, this is a game the Giants can and should win.
What about the injuries? Screw them. If the Football Gods want to test the strength and will of this team, so be it. Collectively, the Giants have to take the same approach that Lieutenant Dan did when he had had enough of what God threw at him in his life in the movie Forrest Gump.
You'll never sink this boat! Come on, you call this a storm? Blow, you son of a bitch, blow! It's time for a show down…you and me! I'm right here! Come and get me! You'll never sink this boat!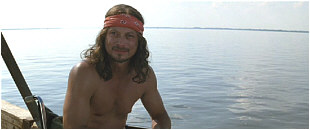 Injuries are not going to sink this boat. Could the Giants lose this game? Sure, but they won't sink this team or this season. This team is too focused, still has too much talent, and is too well coached. So bring it on Bears. We're waiting for you.
Giants on Defense: You know it's got to be killing guys like Pierce, Strahan, and Umenyiora that everyone is talking about the Bears' defense but not the Giants. You know they have something to prove. Of course, the big problem is that Strahan and Umenyiora won't be able to play. Short, Emmons, and Tuck are "questionable" too. That's a lot to overcome. But the Giants are going to have to. They've done it before. And the Chicago offense is not the most dynamic in the world. The one advantage New York may have is this – because of all the injuries, Defensive Coordinator Tim Lewis is likely going to have to scheme more than he did thus far this season. Chicago probably does not know what to expect.
The obvious, #1 goal of the defense is to stop Chicago's ground game. Everything the Bears do on offense feeds off the ground attack. Shut that down and make them one-dimensional and you take them out of their game. The big problem is that Chicago is a tough, physical running team and they are really, really going to test defensive ends Adrian Awasom and Mathias Kiwanuka on the perimeter. Indeed, because of this, we actually may see Fred Robbins and William Joseph shifted out some to defensive end. In such a scenario, Jonas Seawright is going to have to step it up inside. Making the edges even more inviting for the Bears are the injuries to Short and Emmons. If they can't go, there will be a lot of pressure on Gerris Wilkinson and Reggie Torbor to perform. The Giants really need a monster game out of Antonio Pierce. He needs to avoid/playoff blocks quickly and stuff the run. Everyone needs to step it up. Cofield, Robbins, Seawright, Joseph, Kiwanuka, Awasom, etc. It's going to be hard, but they can do it. You put on that blue helmet with an "ny" on it and you are expected to play good defense. Get the job done!
The Bears will likely be without there speed burner WR Bernard Berrian (doubtful with a rib injury). Without him in the line-up, the Giants can play tighter on the other receivers underneath. The top two receivers then to focus on are the big, physical WR Muhsin Muhammad and TE Desmond Clark. Getting Sam Madison back to face Muhammad is huge for the Giants. There is a size disadvantage there, but Madison is an experienced veteran who plays receivers tough. Antonio Pierce said the focus of the defense in the passing game will be Clark. That's a good thing too. But with the injuries at linebacker, that may be easier said than done. Pierce needs a good game in coverage as do his fellow linebackers – whoever is out there on the field. The Giants also need to keep an eye on HB Thomas Jones out of the backfield. He has 22 catches on the season.
Everyone knows that QB Rex Grossman has been wildly inconsistent. The book on him is that if you hit him early and often, you can rattle him. That's going to be harder to do without Strahan and Umenyiora. The other down linemen are going to have to suck it up and Tim Lewis needs to come up with some innovative blitzing packages. This is a game where a guy like Gibril Wilson or Reggie Torbor could shine on the blitz.
Stop the run. Cover Muhammad and Clark. Get after Grossman. A tall order given the injury situation, but New York needs to find a way to accomplish these goals.
Giants on Offense: The Giants will miss Amani Toomer. Not just because of his pass-receiving skills, but just as importantly, his run blocking. Tim Carter has big shoes to fill as both a receiver and a blocker. Oddly, for whatever reason, Tiki Barber and Brandon Jacobs have yet to break a single big run this year. They're due. But they will need guys like Carter, Michael Jennings, David Tyree, Sinorice Moss to make some quality downfield blocks.
Chicago is obviously a very good defensive football team. But the Giants are also a very good offensive football team. The Giants should not and will not fear the Bears on Sunday night. They need to go with what brought them this far – a solid, dependable running game and big-play ability in the passing game. All eyes will be focused on QB Eli Manning, but the real key in this game will be the Giants' offensive line. The Giants' linemen are not just a group of big oafs. They are good athletes who have the ability to play a finesse game as well as maul. This will serve them well against an athletic front seven on the Bears. The disruptive presence inside for the Bears is DT Tommie Harris. He's their 3-technique penetrator. But the Giants have good guards, and if Harris lines up at LDT, he'll face RG Chris Snee, who can maul people. The 1-technique nose tackle is Tank Johnson. He's a good player, but like Harris, he isn't the biggest tackle out there. Ian Scott provides quality depth. I really think one of the biggest keys of this game is the play of LG David Diehl, OC Shaun O'Hara, and Snee against the interior triangle of the Bears' defense – Harris, Johnson, and MLB Brian Urlacher. Urlacher is "questionable" with a toe injury, but the Giants should prepare for him to be on the field.
Running the football also makes sense because of the match-ups outside. The defensive ends on the Bears are good athletes, but they are also on the smaller side. LDE Adewale Ogunleye will face RT Kareem McKenzie. McKenzie has a 65-pound advantage on him. LT Luke Petitgout has been run-blocking very well and will face RDE Alex Brown. Petitgout is 50 pounds heavier. And the Bears miss Mike Brown at safety in run support. Pound that football at the Bears. It may not be terribly productive at first, but stay with it. This is likely to be a low-scoring affair, a game of field position where each team will attempt to wear down the other.
What the Giants simply cannot do is turn the football over. That's how Chicago has killed a lot of the teams they have faced. The backs, receivers, tight ends, and Manning MUST PROTECT THE FOOTBALL. If the Giants don't turn the ball over, they will win. Eli can't play afraid, but he has to be somewhat cautious. Don't put his defense in a hole like he did against Seattle in Week Three. He has to be conscious of the pass rush and not allow the ball to be stripped and he certainly can't throw the football up for grabs. Throw it away. Take the sack. Don't force the football. Live to fight on another possession.
All that said, I do like Jeremy Shockey in this game against the Tampa-2 style of defense that Lovie Smith employs. There should be a lot of room to operate underneath for Shockey if – and this is a big "if" – Plaxico Burress is on the field and effective. Burress has been bothered by back spasms and if he can't go, or isn't effective, the Giants' offense will be much more limited. Chicago will then be able to focus the bulk of their attention on Barber and Shockey.
There is one advantage to losing Toomer. Aside from Tyree, his potential replacements are all speedsters. The defense has to respect the ability of Tim Carter, Sinorice Moss, and Michael Jennings to get deep. That actually may open things up more for the underneath receivers such as Shockey and Barber. It's put up or shut up time for Carter. The team needs him to play like a starting-caliber professional football player. Get it done.
If Burress plays and one of the other receivers steps up, the Giants can do some damage against the Bears' secondary. Burress versus RCB Nathan Vasher is a size and talent mismatch for the Bears. The other corner, Charles Tillman, is mediocre. The nickel back, Ricky Manning, Jr., is decent. The free safety, Danieal Manning, is a rookie and the strong safety, Todd Johnson, is not good in coverage. This is where Shockey could have an impact if he is somehow left alone on Johnson.
Of course, the ability to make plays in the passing game is going to depend heavily on pass protection. This is where the offensive line comes into play again (as well as blitz pick-ups by the backs and tight ends). I firmly believe this game will be won or lost by the Giants on offense by (1) turnovers, and (2) the play of the offensive line.
Giants on Special Teams: The Bears have outstanding special teams. The Giants used to last year. This is a scary match-up for New York because tight, defensive-oriented games usually come down to special teams. Punt returner Devin Hester is averaging a superb 14 yards per punt return and already has two touchdowns on punt returns this year. He is incredibly dangerous. The Giants need an All-Pro effort out of Jeff Feagles this week – keep the ball away from Hester. That said, Hester has had some issues protecting the football so if he does field a punt, get some hats on him. Rashied Davis is the kick returner. PK Robbie Gould has not missed a field goal all season and ex-Giant Brad Maynard is one of the better punters in the NFL.
This is the kind of game where the Giants really need David Tyree to make a statement. He's been far too quiet this year. The Giants also need a good game out of PK Jay Feely on both his kickoffs and field goal attempts.
If the Bears dramatically out-play the Giants on special teams, they will lose this game.