August 4, 2012 New York Giants Training Camp Report
by BigBlueInteractive.com Contributor JohnF
Bits & Bytes "7 Minutes of Terror" Camp Report
No, not a Tom Coughlin Drill!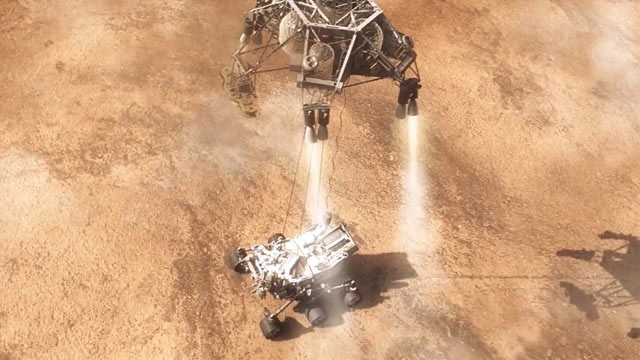 7 minutes of terror is a NASA video about the upcoming Martian Space Laboratory's landing on Mars Monday morning at 1:31am EDT. If they can pull this off, it will be the most amazing moment of the NASA program besides the Moon Landings!
The Heat Shield on Curiosity is supposed to get as hot as 3800 degrees, but I'm sure the humidity at UA has that all to beat! Weather Channel has us at 86 degrees (feels like 92), Dew Point of 71, Humidity at 60% and winds out of the West at 10 miles an hour (it got gustier than that later…hi Weatherman!).
I roll off in the Honda Fit today (car pooling with Carol, who's going to her Mother's). Once I get at UA, I start drinking water and wading through the thick air to the lower fields. I don't envy the players on the field today!
Hey, there's Pat Hanlon! He's walking towards the Sports Authority Tent (where they are selling all sorts of Giants nick knacks). Hey, Pat, I thought you used that thing just for tweeting! You're actually going to talk on it??
Pat is wearing a red shirt (with khaki shorts), and two toned Nike running shoes (white/blue). He's also wearing sunglasses, and later puts on a gray Giants windbreaker and a white Giants cap. Thus ends the PH fashion spot!
Yea! The film towers are on Field 2; I'll have a good spot (dusty, though) and shade!!
The players start walking on the field; Eli hears the cheers for him (and for people who want a repeat), and not only gives a fist pump, but gives us the "I got this, no problem!" stare!!
Tuck walks by, and hears a "nice facemask!" He smiles, and raises his helmet to show it off. We have a live crowd today! Beatty walks by with no helmet, and a white cap, so it's evident he's taking today off as well, most likely because of his back, if the reports are accurate.
Horn.
Defense goes over to Field 3, where 5 garbage cans upside down await. They start to go into their pass rush and coverage drills.
On Field 2, the Offense walks through plays (if you've ever played organized football, you know all about these.
Horn.
Field 2: Kickoff Returns with Jernigan, Wilson, Collins.
Field 3: The QB's are working on center/snap exchanges, and shotgun exchanges. Boothe, Baas and White are the centers.
Field 3: The O Line goes through stance drills and instructions.
Speaking of Beatty, he walks off to the locker room.
The coaches are not happy with Jernigan and his lead guys not communicating, as a Tynes KO falls between them. I hear:
"Communicate out there. You want to make the team??"
Horn.
Sprints and all the loosening up stuff I mentioned before in the other reports. The Giants are really going after the pulled hamstrings and other pull injuries; the coaches are paying close attention as the players loosen up.
Hey, it's the almost real referees again! Same crew, I think, numbered 38, 92 (white cap), 14, 17, 71, 95.
Oh, looks like the players are not wearing full pads, only shoulder pads. They are wearing just shorts, I guess. (No, I will NOT check this out, just trust me!)
Hey, I see Howard Cross again today! I didn't mention it because I wasn't sure it was him until I saw him on Giants.com yesterday.
Howard has lost a LOT of weight, and looks really good, almost in playing shape. Check him out on Giants.com!
TC is checking out the players loosening up, when one of the fans near me yell out "Let's get another one, we're hungry!" (Not sure if he means Ball on a Stick, or not!) Tom presumes he means the Super Bowl, and starts smiling and leading the applause from the crowd, clapping along with them.
As I said, live crowd! They were clapping after almost every horn break, which I think sounds really good to the players on the field.
I spy Nicks being brought to the locker room on a cart, but no indication why.
Horn.
On Field Three you have the RB's, D Line and O Line. I'm not sure what kind of drills they were doing. Might have been verbal instruction.
Field 2, you have the safeties, LB's and WR's. They line up in 5 lines, where groups of 5 run 20 yards down field, then turn around, jogging in place. I have NO idea what that is!
The players split into groups, and on Field 2 we have the TE's vs the DB's with blocking drills.
Field 2: QB's are at the other end of the field playing pitch and catch with Cruz.
Field 3: It looks like punt returns, but more than the usual guys from the WR/DB's are there; the return defense team is using the foam arm shields.
Field 2: Running Pitch-and-catch with the full 11 (everyone in motion, but no defensive or faux defensive players).
Field 3: The defensive players are split into groups. The DB's are doing press cover drills, the LB's are doing backpedal drop into zone drills, and the safeties are playing "follow the ball"…this is where a coach moves the ball to the left or right, up or down, and the player reacts to where the ball is going by following it (if it goes down, he leaps to the ground, for example).
Field 4: Hey, the D Line is enjoying "Ball on a Stick"!! I love this drill…you get 4 D Linemen, they line up and wait for the coach to pull the stick to simulate the Center exchange with the QB.
The Giants should have had people selling ice cream footballs on a stick, that would have sold a TON today, instead of the "Yearbook, getcha Yearbook" chant. I tried a yearbook, and I agree with Charles Barkley:
Ball on a Stick rules!
Field 3: LB's work on defeating blocks with a coach who was wearing foam arm wraps (that was different!)
Field 2: DB's and WR's work on press coverage. The DB coach keeps telling the players "Use your hands! You gotta push!"
Field 2: On the other end, the QB's are doing pitch and toss.
Field 4: D Line working on fumble recoveries.
Field 3: DB's and LB's work on drop back coverage zones.
Field 2: 2 Lines of WR's doing "Hot Catches" from coaches, who on occasion try to make them jump or dive.
Field 2: Here's a drill with the QB's where a tall coach will put his arm up, and force the QB to float a pass over him to the RB in the flat.
Field 2: Two QB's now working on slant throws to WR's…now they change the routes to outs, middle drags, long sideline passes.
Field 2: Coaches are throwing them flat or bubble screen passes.
Field 2: Three QB's work with a short green zone, passing to crossing WR's/TE's.
Field 4: Tynes, Weatherford and DeOssie are doing their usual drills. Or watching the Olympics on their phones. Hard to say.
Horn.
I take a peek at 57 (Williams)…he seems to be moving fine today. He had something or other yesterday that kept him out of practice. I saw him close up later…he is still skinny, even if he put up the 20lbs of muscle that was reported.
The Offense goes to Field 2, the Defense to Field 3.
Field 2: The offense is back to running plays.
Field 3: The Defense is working on backfield coverage.
Horn.
Seven on Seven's!
Eli – A direct snap to Bradshaw, followed by a play action screen to Ware in the middle. Phillips with a stunning interception after Boothe is flagged for a fragrant hold on Brewer.
Don't faint…Eli fakes getting the ball as Ware takes a direct pitch running right, then laterals the ball to Jernigan running to his left on an end around. The crowd is stunned!
Carr comes in, and hands off to Brown for an off tackle left. Scott on a right screen pass.
Oh, JPP gets a huge cheer as he disappears into a conveniently located Porta Potty near the fence. Don't know if this will make the highlights on Giants.com. And NO, I didn't take a picture, though I'll bet there's plenty of 'em on Facebook right now…
Carr throws to Robinson, and the TE leaps high into the air and nearly grabs it by his fingertips (he can't control it when he hits the ground). This guy can leap.
Perrilloux's time, and he hands to Wilson, who's off tackle left run is stuffed. Perrilloux overthrows TE Donnell on a right sideline out. Wilson tries off tackle left for a short gain, then Perrilloux throws a bullet to Talley over the middle. Martinek rumbles up the middle, and I hear some thunder. It's far off, though.
Eli's back, and hands off to Bradshaw, who meets Herzlich up the middle. JPP is back from…well, you know…in time to reject Eli's pass with passion, but Eli comes back with a dink to Bradshaw in the right flat. Eli then sprints right and throws a screen to Bennett.
Carr's revved up, and hands off to Brown, who meets Jones up the middle. He overthrows Jernigan, good thing because Coe was in perfect position to pick him off. Then hands off to Scott for an off tackle right sweep. Carr sets up in the shotgun, but finds no one (sack).
Perrilloux is back, and he hands off to Wilson off tackle right…blink…the guy is gone. I swear, he doesn't run through holes, he flickers through them! DePalma with a strong showing as he makes a nice catch on an out on the left sideline. Ryan tries to thread the needle to Stanback, but he's double covered and SMACK, the two DB's hit each other as they go for the ball…but Horton makes a great interception, hanging on to ball as he goes to the ground!
Perrilloux tries again to hit Douglas, but Bruce Johnson will have none of it, as he knocks the ball down.
Horn.
Field 2: Kickoff returns by Collins, Jernigan and Wilson.
Sky is getting dark, but I think we may miss it…we're on the edge of the clouds. The temperature is starting to drop, and the wind gusts. Snoopy might say "It's a dark and stormy day…".
Field 3: QB's are doing pitch and catch with Bradshaw and Cruz.
Field 2: Coaches yell "Field Goal-Field Goal Block!"
Tynes comes on, and hits 2 field goals in a row. Then…
Then….
Then…I don't know if I can type this…
FAKE! Weatherford picks it up, drifts to the sideline, and tosses it to Diehl, who scores!!!
Someone HAS kidnapped TC!! Quick, get the milk cartons out!
No, not that one!!!
So, Tynes is 5 for 5, with one fake!
Horn.
Field 3: O Line vs D Line working on pass rush/pass blocking.
Field 2: 7 on 7's
Eli – Hits Hixon on the right sideline for a long out pass! Jernigan just gets over Rolle's coverage, and grabs a left slant. Now it's Bear on a right slant. Ware on a middle dink. Barden with a deep catch over Prince..wow, Eli just dropped that in there, no way to defend that!
Carr – Hits Cruz on a left curl. Collins finds a hole in the zone with a right sideline slant. Hynoski with a short left side flat pass reception. Douglas (who's having an impressive camp) snares a sharp Carr pass up the middle zone. Then David finishes with a pass on the left sideline to DePalma.
Perrilloux – Overthrows (!) a wide open Barden streaking up the deep left sideline. Ryan then hits Wilson over the middle on a drag route, but I can see him BirdDog the pass from 100 yds away! Robinson with a seam pass up the middle. Talley with a nice grab in the left flat.
Perrilloux then throws a PERFECT pass to Douglas (who makes the catch right over his shoulder!) up the middle. Pretty!
Horn.
Both Offense and Defense are on Field 2:
Eleven on Eleven:
Eli – Handoff to Bradshaw off tackle right. Then Eli with the hard count (!) after which he hits Cruz deep up the left sideline. I love the way Eli just drops it in Cruz's hands on this one.
On the next play, Rolle just pulls Collins down, drawing a flag which he picks up and then drops.
Eli with a play action to Jernigan, but Corey is not fooled, and knocks it out of Jerrel's hands on the left sideline. Eli's in Shotgun now, and hits Cruz up the middle, after Victor finds his favorite spot in the zone.
Carr's back, and he hits Collins an a right curl for 30 yds. No one's open next, so that's a sack. Scott runs a bubble screen right; then Brown up the middle, but Herzlich meets him in the hole. Carr now with a hard count, sprints right, but overthrows Donnell.
Perrilloux – Hands off to Wilson up the middle. Then hits DePalma with a nice catch on the left sideline. (It's cooler, and I think we avoided the storm!) Sack on the next play,as no one is open. Then he overthrows Douglas on the right sideline.
Whistle!
Green Zone Work:
Carr, hands to Scott up the middle, but that's stuffed. Carr's in shotgun again, Robinson can't handle a quick pass to him, and Kenny Philips comes in to make sure he doesn't get it on the bobble. Brown off tackle left, but Joseph runs right at him to stop the run.
Perrilloux – More Shotgun, but he can't hit Jernigan because Prince is in perfect position, no catch. Wilson with another impressive quick cut in the hole off tackle right.
Eli's here, and Douglas makes the PLAY OF THE DAY with a…wait…
Catch in the Endzone!
Bruce Johnson with tight coverage on Hixon, so Eli has to toss it away. Eli with an incomplete pass to Bradhaw in the middle flat, and practice ends.
Hey, Nicks is back! Came back earlier on the cart…
What you didn't see after practice:
Robinson takes one the rubber bands and "snaps" at one of the orange cones. He's apparently still upset over bobbling the one catch.
Then the team goes into the usual big circle, which breaks up in a "team" chant, then they break into smaller groups.
Tom is talking to his assistant coaches.
Some of the DB's (the only one with a number is Janzen Jackson) work on press coverage. More guys are doing sideline to sideline sprints.
Martinek is talking to a coach about positioning on his blocks.
Kuhn and Rivers hit the Gatorade bar after some sideline to sideline sprints.
I see in the far distance what looks like a TE (Robinson, maybe?) working on catching the ball (he turns around and catches the ball from a support staff person).
Note: For the first time in 16 years, I have a VIP ticket! I don't know how much I'll be able to do Monday, so I may not have a report. We'll see…